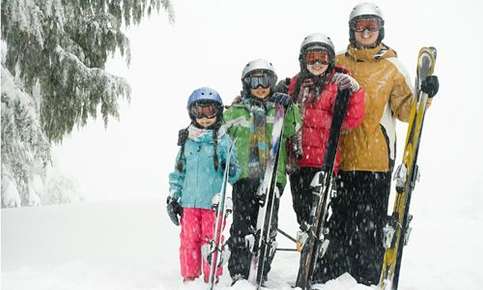 Is everything a blur when you play soccer or snorkel? Investing in a pair of prescription goggles may make your favorite activity much more enjoyable.
What are Prescription Goggles?
Participating in a sport or activity isn't always so comfortable when you wear glasses. Your eyewear may slip constantly, or the lenses might fog up just as you're about to make a crucial play. Although contacts can offer a good solution in some cases, they aren't always the best choice either. If you scuba dive, snorkel or swim in your contact lenses, you may be at risk of developing an infection if waterborne bacteria becomes trapped between the lenses and your eyes.
Prescription goggles provide a better option. The eyewear features lenses that not only contain your exact prescription, but are designed to endure blows without shattering. Prescription goggles offer these important features:
Shatterproof Design. The goggles are made of tough polycarbonate and won't shatter or break if you fall or are hit by a stray ball.
Stability. Because the goggles are secured by a band that wraps around your head, you won't have to worry that they'll fall off or slip.
Comfort. Prescription goggles are designed to be comfortable no matter what sport or activity you enjoy. The addition of padding and soft, flexible straps prevents them from digging into or irritating your skin.
Better Vision. The wraparound design of prescription goggles ensures that your peripheral vision is just as sharp as your central vision.
Glare Reduction. The goggles can be tinted to reduce glare, a common problem that may affect your ability to see clearly when you're playing softball or hitting the ski slopes. Make sure that your tinted goggles also offer protection from ultraviolet (UV) light, which is a factor in skin cancer and cataracts. If you prefer, you can choose photochromic lenses that lighten and darken based on the amount of available light.
Anti-Fog Coating. Some types of prescription goggles contain an anti-fog coating to ensure that your vision is never compromised despite changes in temperature or humidity.
Wind and Debris Protection. Even the tiniest speck of dirt in your eye can keep you out of the game. Goggles protect your eyes from airborne debris and the drying effects of the wind.
Special Tints. Adding tinted lenses to your goggles can help you perform better. For example, wearing yellow-tinted goggles when you play tennis will make it easier to see the ball when it's in the air.
Who Should Wear Prescription Goggles?
Prescription goggles are a good idea for anyone who normally wears contacts or glasses, no matter what their age. They can help younger children feel more comfortable on the playing field and enhance their performance, but also offer important benefits for adults. Although prescription goggles may have been big and bulky in the past, today's models are lightweight and attractive. Prescription sports eyewear is recommended if you play or participate in:
Baseball/Softball
Skiing or other snow sports
Swimming, diving, scuba diving or snorkeling
Paintball
Soccer
Basketball
Football
Volleyball
Golf
Ice or street hockey
Racquetball
Track
Squash
Tennis
Prescription goggles may also be helpful if you work in construction, landscaping or another field in which flying debris is a problem. Goggles sold in home improvement stores usually aren't very comfortable when worn over prescription glasses and tend to fog easily. Whether you're a seasoned contractor or an avid do-it-yourselfer, you may want to consider purchasing goggles to protect your eyes.
Where Can I Get Prescription Goggles?
You can choose a pair of prescription goggles during your next visit to the eye doctor. Although goggles are available online, all manufacturers don't offer the ability to add your precise prescription to your eyewear or correct astigmatism. Your eye doctor will help you find the best type of goggles for your sport and ensure that the prescription offers the optimum correction for your vision.
When you need prescription goggles, standard glasses or contact lenses, we're here to help. Call us to schedule an appointment for your next eye exam.
Sources:
All About Vision: Scuba Diving Masks, Snorkeling Masks and Swim Goggles, 4/17
http://www.allaboutvision.com/sports/diving.htm
All About Vision: Eyeglasses That Enhance Sports Performance, 8/17
http://www.allaboutvision.com/sportsvision/eyewear.htm
National Eye Institute: Protective Eye Wear