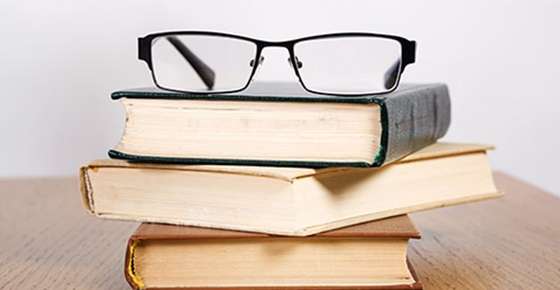 According to the American Optometric Association (AOA), beginning approximately around the age of 40, most adults begin to experience age-related vision changes collectively known as presbyopia. The most common symptom first experienced by sufferers is usually an increase in the difficulty of clearly seeing items at close distances, such as reading books or text on a computer screen. Typically, the usual temporary solution is to hold the printed word or adjust the computer screen to present the material further away from the eyes. Individuals who work in fields that require excellent close-up vision or have hobbies -- such as sewing of needlework -- often notice their decreasing visual acuity first because they depend upon it so frequently. It is not true, however, that such work or recreational activities cause the condition or make it occur sooner than usual.
Just a Little Bit of a Problem?
Age-related visual changes are very common. They often develop slowly and are not recognized to be as advanced as they actually are as individuals assume temporary coping skills to deal with the situations. For instance, individuals who are nearsighted and already wear eyeglasses to correct their distance vision, characteristically remove their glasses or pull them down to perch upon the tip of their noses to see smaller items without or "over" their corrective lenses. This behavior can become habitual and such sufferers may not recognize the habit as a sign of increasing presbyopia. Indeed, this type of reaction is so common that businesses manufacture eyeglass "holders" so that the eyeglasses remain hanging from a cord or chain around the wearer's neck instead of becoming misplaced if they are taken off entirely.
Other Signs of Age-Related Presbyopia
The following are additional symptoms of presbyopia:
• Problems Reading or Performing Tasks with Small Items
As noted above, difficulty in reading or performing tasks requiring the manipulation of small items is often the first symptom noticed by the sufferer. Just as our joints can stiffen up with time, so can the lenses in our eyes, making focusing on smaller items more difficult.
• Requiring More Light for Sight-Related Tasks
As our eyes age, many individuals find that they require more overall light or more focused light to more easily accomplish sight-related tasks. For example, some people may begin to use reading lamps over their chairs or on their desks. Anatomical changes within the eye cause a decreased ability to use available ambient light and "focus" it within the eye, thus the overall level of light in the area must be increased.
• Glare-Related Issues When Driving
Many individuals report an increased difficulty in driving at night, citing the intense glare of other cars' headlights. Driving in the rain is often markedly more difficult. These symptoms are again related to the inability of the eyes' lenses to focus properly and light is thus "scattered" throughout the eye. This scattering effect is experienced as "glare" and the situation is further compounded when water causes even more light to scatter by its prism effect.
Talk to your optometrist if you notice any changes in your vision.
Source:
American Optometric Association. "Adult Vision: 41 to 60 Years of Age."